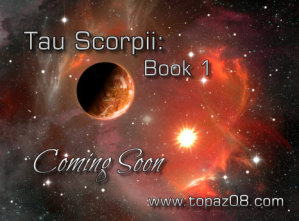 When Taryn rescues another human from a marauding band of Caeruleum, she knows they won't be happy that their hunting party was interrupted. She also knows, the male human is as likely to be as angry and unforgiving as his former captors. On Sedna, the desert isn't safe for aliens. The catch is, most species on the planet are alien, including humans.
Garrett is a warlord of a rival clan, and while they aren't enemies, they aren't allies either. That is, until they uncover a scheme that would destroy his home and make them all slaves to the merciless barbarians.
Tau Scorpii A, a massive red giant star in a binary cluster with Tau Scorpii B, a yellow dwarf. The solar system is populated by more than thirty planets, at least one habitable. Called Sedna by the SolTerrans that live there, so named for a planet in their ancestral system.