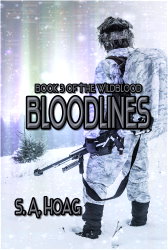 snippet
"I've heard things, about Team Three," Dallas started.
"Sure you have. Dark, scary things you don't want to know about. I guarantee you, some of those things are true. Some of those rumors are absolute lies, and there are probably a few we started ourselves. Do you want me to tell you which ones are which?"
"The team has gone native, gone renegade, and that's why Command is sending you to different assignments." Dallas didn't play around.
"That's actually fairly accurate," Shan said. "It's not that black and white, but close enough."
Dallas groaned.
"You asked," Hunter said.
~ ~ ~ ~ ~
The Wildblood Series
A Post-Apocalyptic Action Adventure
No one remembers what started the war, the big one. Civilization stopped, and what came next was fueled by rage and fear.
Twenty years on, a tiny refuge, a place called The Vista, may be one of the last vestiges of humanity. Isolated, guarded, and hiding a dark secret, the people have survived World War Last, and they are content with that. Their children, however, are not. The search for others will send them out into a world they know nothing about, where the line between enemy and ally is blurred.