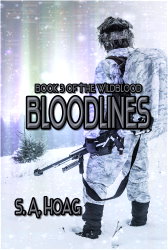 Team Three decide that their next best course of action is to go directly to the source, and get in contact with Skolkovo. Problem is, they don't know how.
Then there is the fact, every Nomad along the Front Range is hunting Wade and Shan. Their own Council has gone into full rebellion against Security. Even close friends seem to be distancing themselves. The team is fraying at the edges.
Not so easily deterred, they set out on separate paths, looking for answers about their heritage, the war, and if they can truly protect The Vista. It may earn them exile from their home. They know this. Failure is not an option.
~ ~ ~ ~ ~
The Wildblood Series
A Post-Apocalyptic Action Adventure
No one remembers what started the war, the big one. Civilization stopped, and what came next was fueled by rage and fear.
Twenty years on, a tiny refuge, a place called The Vista, may be one of the last vestiges of humanity. Isolated, guarded, and hiding a dark secret, the people have survived World War Last, and they are content with that. Their children, however, are not. The search for others will send them out into a world they know nothing about, where the line between enemy and ally is blurred.