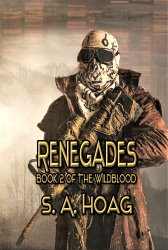 Uncontrollable. Unpredictable. Dangerous. The Wildblood. Now, Team Three know what they are
They made you strong, and smart. We kept you safe, and in the shadows.
It took them damned near twenty years to find you.
~ ~ ~ ~ ~
Renegades: Book 2 of The Wildblood takes up with Team Three out among clans of the Altered, and cities where civilization has held ground. Their efforts to establish The Vista's domain create unique conflicts and forge unexpected allies. One of the most pressing obstacle turns out to be their own governing council, a threat as real and dangerous as the nomads of the outlands.
~ ~ ~ ~ ~
Excerpt
"The spirits must be restless today," the raven-haired Nomad commented, leading his horse to the water trough. It was early, with riders already congregating, in preparations to get on the road. Mountains surrounded the area, but it was deceiving. Not far to the east, the Great Plains started and ran past the horizon, some five hundred miles.
The way station was neutral ground. Wade ignored him. Beside the fact that four more riders were making their way up the muddy path, and he was there with Chloe. She'd gone in to the station. For the moment, the situation was under control. Lissa would personally kill him if he got her daughter in the middle of a senseless brawl.
"You never know what's going to wander in from the badlands, this time of year," another one of them spoke up, stopping on the far side of the road, effectively behind him, and blocking off any chance of retreat.
Even in civilian clothes, Wade wore an over-abundant supply of weapons, and discarded his parka on the saddle, to be sure the other men were aware. It was too early in the day to be dealing with idiots.
"Maybe the proprietors need to put up a new sign," a third indicated the list of rules on a faded billboard. "One with pictures." He laughed along with his friends.
"If you have something to say to me," Wade spoke carefully, not raising his tone. "Say it, or shove off."
"We're only speaking to you if you're a piece of human waste, coming in to try to rob the trading post," the first answered, indicating Rule One on the billboard. 'Thieves Will Be Shot Without Questioning'.
"This post is outside the haven boundaries, so you're on your own," he added to that train of thought.
"That works both ways," Wade pointed out. "Which is good for me. I don't have time to be waiting around for an inquest."
"Are you going to let him talk like that, here?" one of the others asked, fidgeting.
"Is there a rule against telling people to mind their own business? Because the world would be in a lot better place if everyone did," Wade said.
"Problem is, I have business here, and since I haven't seen you before, I have to think you're that business," the first decided. "I thought I'd recognize you easier. Apparently not, but that's what happens. Maybe I'll explain it."
Wade didn't have a comment. He'd been seconds away from beating the daylights out of the entire band of The Sixth he was looking for, all this time, Kaden first. He still might.
"Did Lissa bring you here, or Chloe?" the one Wade had tagged as Kaden asked.
"Chloe is inside. Testing me like that is a bad idea. Don't do it again." Wade made it clear, it was a threat.
"I won't have to. I'm Kaden."
"I know."
~ ~ ~ ~ ~ ~
The Wildblood Series
A Post-Apocalyptic Action Adventure
No one remembers what started the war, the big one. Civilization stopped, and what came next was fueled by rage and fear.
Twenty years on, a tiny refuge, a place called The Vista, may be one of the last vestiges of humanity. Isolated, guarded, and hiding a dark secret, the people have survived World War Last, and they are content with that. Their children, however, are not. The search for others will send them out into a world they know nothing about, where the line between enemy and ally is blurred.
~ ~ ~ ~ ~