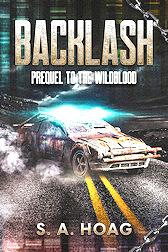 Before Team Three, there was The Blackout.
After World War Last, everything changed. A tiny refuge, tucked away in the Rocky Mountains, The Vista, has survived on its own.
Team Three - Wade, MacKenzie, and Allen - young, ambitious, and ready to do whatever it takes to protect their home.
Backlash, prequel to The Wildblood series. Set on a near-future Earth mostly devoid of humans, this reveals some of the harsh realities facing people of The Vista, and how Team Three began. When Security faces an unknown adversary that threatens to wreak havoc across what little civilization is left, they must rely on the unusual abilities of a new team, and hope it's enough to stop the chaos.
~ ~ ~ ~ ~
Excerpt
"Shannon," her radio crackled static, snapping her out of a restless sleep. It was Wade on his private channel.
"Go ahead," she answered groggily. Her watch read 9:30 pm and she was supposed to go on duty at 2:00 am. An hour - she'd been asleep an hour.
"Gear up. I'll be there in five minutes to get you."
"What's going on?" she wondered, rubbing her eyes.
"Don't ask, just do."
He didn't sound like they might be playing wargames. Shan moved.
Her mother was in the kitchen. Deirdre Allen was five foot three, with pale blond hair, hazel eyes, and was one of The Vista's actual doctors. She'd been twenty-nine when civilization ended. "The hospital just called me in," she announced. "Are you on-call?"
"I am now. Wade didn't tell me why."
"War games?"
"No," Shan told her. "Not this time. I know you don't like carrying, but I think this is serious. Take a sidearm, Mom, please."
Deirdre nodded. "For your peace of mind I will." She knew how to use it; she'd been forced to in the past and hoped she never would again. "Whatever it is, be careful."
"I am, and Wade wouldn't let me get away with anything else."
She hugged her. "I mean it."
"I'll see you in the morning," Shan said, hearing a car. "That's Wade. If he tells me it's practice, I'll let you know." She didn't think it was likely, but he'd fooled her before.
The moment she dropped into the passenger seat, she knew it was real. "Can you tell me now?" She'd dressed in winter camos with body armor, both Sigs and a boot gun, clips in all her pockets, plus an array of knives. Her pack held spare ammo, food rations and various bits of survival equipment.
He glanced sideways at her, heading towards Station Two with a purpose. "We lost a Scout at Wisdom about an hour ago."
"Lost?" she repeated, not expecting it.
~ ~ ~ ~ ~
The Wildblood Series
A Post-Apocalyptic Action Adventure
No one remembers what started the war, the big one. Civilization stopped, and what came next was fueled by rage and fear.
Twenty years on, a tiny refuge, a place called The Vista, may be one of the last vestiges of humanity. Isolated, guarded, and hiding a dark secret, the people have survived World War Last, and they are content with that. Their children, however, are not. The search for others will send them out into a world they know nothing about, where the line between enemy and ally is blurred.
~ ~ ~ ~ ~